The definition of unisex jewelry does not necessarily need to distinguish gender from the starting point, but more importantly, it can bring beautiful power when worn on the body!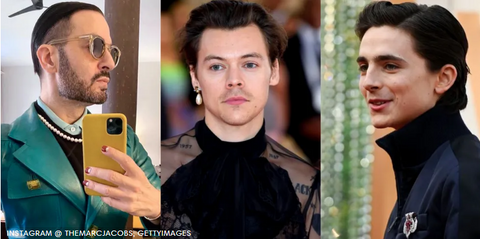 The concept of "genderless" in the fashion industry has become a common practice, not only fermenting on more celebrities, but also expanding its influence to the high-end jewelry industry. From Pharrell Williams wearing a pearl necklace on the Chanel runway in 2016, to unisex looks at a Harry Styles concert, Timothée Chalamet pairing an antique Cartier brooch with Prada workwear on the 2020 Oscars red carpet , to Mikimoto and Comme des Garcons co-branded men's pearl necklaces, and designer Marc Jacobs's daily flashy outfits on Instagram, we have to shout, "genderless jewelry" will also be one of the next important jewelry trends!
Harry Styles and Gucci Creative Director Alessandro Michele
Indeed, in addition to celebrities, costume designers and jewelry designers play an indispensable role in this interesting dressing world.
Alessandro Michele , who has been in charge of Gucci 's creative director since 2015, announced his entry into the high-end jewelry industry in 2019 after starting a retro aesthetic journey across time, gender, and culture with clothing for four consecutive years . The first theater of war: the first Gucci fine jewelry store opened on the Place Vendôme in Paris.