✓ Free shipping on orders over $59
✓ Handmade with love 
✓ High quality materials

✨MollyYard - Manage the beauty of every girl with heart.
✨Unique design, high-quality texture, niche and exquisite.
✨Indispensable fashion accessory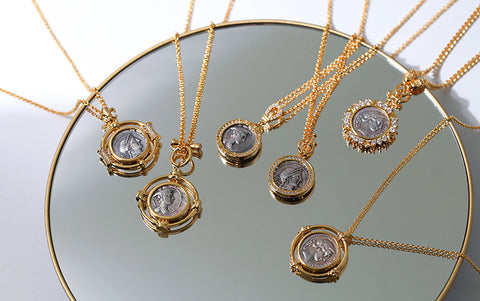 PRODUCT INFORMATION

Product Material: Plated 18K Gold + 999 Silver + Copper (outer)
Size: 46cm 

Color: Gold + Silver
Weight: 11-18g
Style A
This ancient Roman merchant god Mercury and hero Ulysses silver coin.
Front: The head of Mercury, the god of business in a flying cap with wings, carrying a messenger staff on his shoulders. He was the messenger of the gods, the patron of commerce and animal husbandry.
Back: Ulysses walks to the right with a cane, especially his dog Argos. He is the protector of Hermes, Gemini and Virgo in ancient Greek mythology.
Style B
This is the ancient Roman goddess of victory Victoria silver coin. 
It's a bust of Victoria, goddess of victory on the front side,
 and the horse-drawn carriage of victory on the back side.
Zircon bezel set in perfect condition. The middle ancient silver coins are
999 pure silver
. The outer golden part and the chain are thickly plated with 18K real gold, and the color is long-lasting. The reversible version can be worn on both sides.
Style C
This is the ancient Roman goddess of luck silver coin, a symbol of good luck!
Front: "Good Luck" anthropomorphic head, currency text BONEVENT
Back: Well balustrade decorated with harp and laurel branches.
The currency text is PVTEAL SCRIBON. With the goddess of luck around, good luck comes naturally!
Product care
Take it off when you shower/wash your hands/exercise.

Avoid to touch with hairspray, cosmetics, etc.
Clean with jewelry polishing cloth and store in dry condition.

Be gentle for your jewelry.
Shipping and Returns

Free shipping  for orders over $39
All orders are processed within 24-48 hours.
Offer worldwide shipping for all order.
Taxes and import duties are included in prices.
14 days return policy.
Payment & Security
Your payment information is processed securely. We do not store credit card details nor have access to your credit card information.